Do you know the true value of your data?
Zynolo Analytics is a series of dashboards that provide valuable insights for your business. It can contain all the Key Performance Indicators (KPI) on single screen, enabling users to monitor and examine business performance at a glance.
Benefits of implementing Business Intelligence dashboards in your operations
– Enhanced visibility
– Timesaving efficiency
– Better forecasting
– Analyst Key performance indicators
– Inventory control
– Real-time customer analytics
– Better decision-making​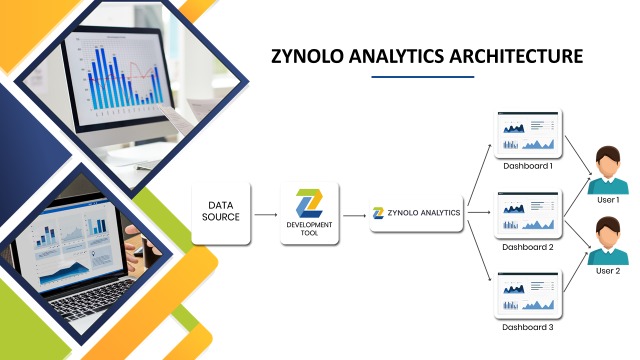 Zynolo Analytics imposes no specific requirements on your data. Our dashboards gather data from a variety of data sources including common file formats such as Microsoft Excel, relational databases, NoSQL databases, cloud data stores, and REST API sources.
Rich Visualization Experience​
Our widgets provide a rich visualization experience. Bar charts, column charts, pie charts, heat maps, maps, grids, pivot grids, cards, gauges, and more.
Zynolo Analytics user interface automatically adapts to different orientations and display sizes. This allows for seamless display of embedded application screens on desktops, mobile devices, and tablets. The UI can be displayed on any device your customers use.